Now that autumn has officially begun, we are anticipating the beautiful strokes from God's paintbrush all around us. Although probably not a favorite season for our groundskeepers ;), many of us really treasure this colorful season at the Center. As we begin to watch the changes of the season it can often lead to thoughts of change within too. Let's pray for time to slow down to appreciate nature this Fall, while listening for God's voice in our lives throughout the changes.
Autumn Months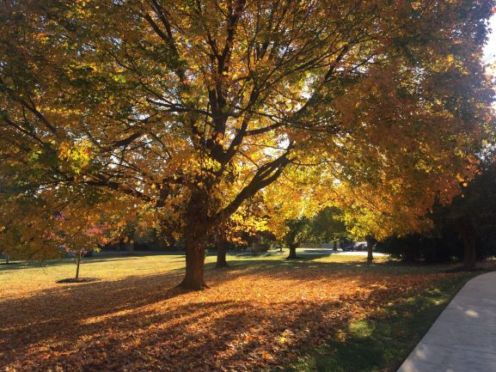 O God of Creation, you have blessed us with the changing of the seasons.
As we welcome the autumn months,
may the earlier setting of the sun
remind us to take time to rest.
May the brilliant colors of the leaves
remind us of the wonder of your creation.
May the steam of our breath in the cool air
remind us that it is you who give us the breath of life.
May the harvest from the fields remind us of the abundance we have been given and bounty we are to share with others.
May the dying of summer's spirit remind us of your great promise that death is temporary and life is eternal.
We praise you for your goodness forever and ever.
– Author Unknown