The famous poet, Robert Frost, once wrote, "A poem begins as a lump in the throat, a sense of wrong, a homesickness, a lovesickness." On this solemn Good Friday, we gravitate to the words of poets and songwriters to express our journey. May you be touched by these words and feel the Spirit around you as we await the resurrection.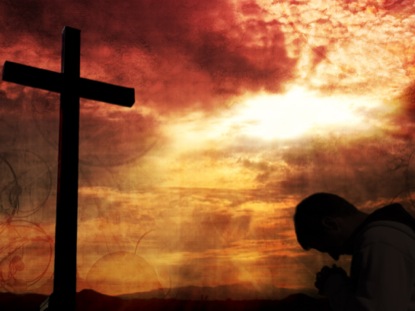 At the Cross
I wait,
And time ticks past.
I gaze,
Made silent by the sight.
I watch,
As soldiers meticulously move
Executing each terrible, torturous task.
I gasp,
Still life lingers in His fragile, broken form.
I flinch,
As blow by blow,
Nails bite deep through flesh to find wood.
I stand
As He is lifted high,
Silhouetted 'gainst the sky which He has made.
I weep
As His cry echoes deep in my hardened, calloused heart.
I wail,
As He screams 'it is complete,
Finished, final, said and done.'
I fall,
As the sky turns inky black
And the sun and moon and stars forget to shine.
I kneel,
As worlds collide,
And time ticks by;
What once bound, no longer seems to hold.
I bow,
For part of me is gone,
Kept forever on Calvary's painful peak.
I wait,
At the foot of the cross, to begin my journey home.
~Andy Stinson