Inspired by a painting at Bon Secours, this Lenten Quiet Day offers an invitation to immerse ourselves imaginatively in the gospel stories that take place in Bethany, the home of Mary, Martha and Lazarus. Bethany is the place where Jesus seems to have found respite, rest and a home at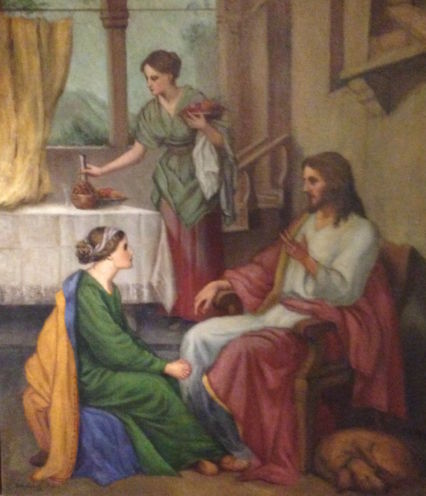 critical moments in his ministry, and is the setting for his most dramatic miracle, the raising of Lazarus. 
The Quiet Day will feature a series of meditations, with art and original poetry, around the family relationships at Bethany. It will especially focus on their experiences of friendship, grief, loss and companionship, offering reflections on how these stories invite us to experience the loving presence of Christ our own lives.  The day will feature periods of corporate silence between meditations and during lunch, with some optional group sharing at the beginning and end of the day.   
This will be a silent retreat outside of the presentation and discussion times.
Kathleen Henderson Staudt, Ph.D., SCHC,  works as a teacher, poet,spiritual director and retreat leader in the greater Washington DC area. She serves as adjunct faculty in theological studies at Virginia Theological Seminary and has taught frequently in  in the Bon Secours Spiritual Direction Institute. A poet and writer, Kathy has published four volumes of original poetry, most recently Viriditas: New and Selected Poems (2023). She has published two books and many articles on the British Catholic artist and poet David Jones, as well as writing on Christian spirituality and practice, most recently Shaping a Faithful Life:  Discernment and Discipleship for Young Adults  (2021). Kathy is a Companion in the Society of the Companions of the Holy Cross (SCHC). Her website is at kathleenstaudtpoet.com.