Tree Speak: Learning and Reverencing the Life, Language, and Lessons of Trees 
"But we shouldn't be concerned about trees purely for material reasons, we should also care about them because of the little puzzles and wonders they present us with. Under the canopy of the trees, daily dramas and moving love stories are played out. Here is the last remaining piece of Nature, right on our doorstep, where adventures are to be experienced and secrets discovered. And who knows, perhaps one day the language of trees will eventually be deciphered, giving us the raw material for further amazing stories. Until then, when you take your next walk in the forest, give free rein to your imagination-in many cases, what you imagine is not so far removed from reality, after all!"
~ Peter Wohlleben, The Hidden Life of Trees 
Have you been noticing trees moreso since the pandemic began? Have you often wished to connect with Nature on a deeper level? Do you already have a practice of spending intentional time seeking or noticing God's presence while gardening, hiking, or being active? If this resonates with you, join us for a four-part series on the life cycle, language, and spiritual teachings of trees. In the spirit of cultivating a deeper care for Creation, the design of this mini-retreat invites participants to gather once in January, April, August, and October for a two and a half-hour program. 
During each gathering, some intentional time spent outdoors among the trees will be woven into an interactive dialogue around assigned reading from forester and author, Peter Wohlleben's 2015 work, The Hidden Life of Trees: What They Feel, How They Communicate: Discoveries from a Secret World. A season-specific ritual will also be facilitated during the program that incorporates the sacred energies of trees and the transformative cycles of Summer, Autumn, Winter and Spring. Participants will be encouraged to also spend time with trees in between attending each or all quarterly gatherings and will be invited to share their discoveries and reflections with the larger group while discussing The Hidden Life. Contemplative prayer & meditation, writing, and other creative exercises will be explored to further ground and empower participants as they harness the cherished stirrings and connections they form within Nature, themselves, and each other.
Participants have the option to attend any or all of the four programs. While each seasonal gathering and segment of Hidden Life can stand alone in providing something valuable, attendance at all four offerings is encouraged and recommended for a deeper amount of growth in appreciation for God's Creation and our participation in it. 
The last Future Tree Speak date is October 5. Guided by Gordon Creamer. Please note that lunch is not included with this mini-retreat.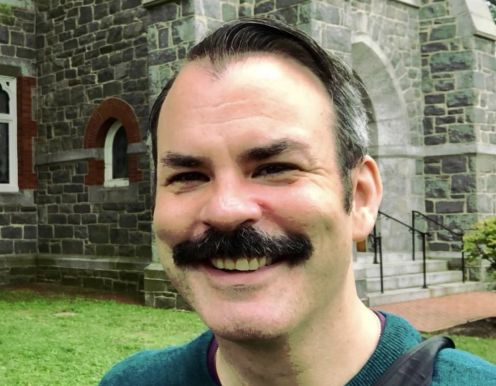 Gordon Creamer, creator of the Mission Bridge, currently serves as Program Director at Well For The Journey, a spiritual wellness center in Lutherville, MD. He has also been involved in healthcare programming and operations since 2001 at various Assisted Living, Skilled Nursing, and Hospice communities. He earned an MA in Spiritual & Pastoral Care from Loyola University and an MA in Theology from the Ecumenical Institute of St. Mary's Seminary & University. He is currently a candidate for the Doctor of Ministry Program at the Ecumenical Institute.
Gordon has facilitated numerous retreats and workshops that focus on creating opportunities for participants to explore and enhance their spirituality and well-being through various media. Uplifting the journey of adults, individuals with memory impairment and members of the LGBTQ+ community is a passion for him, and in the last several years, he has fostered support groups and programs for caregivers and those who are grieving losses. Trained as an end-of-life doula, certified spiritual director, and reiki practitioner, Gordon welcomes all in discovering the spiritual life as a means of healing, growing and thriving. www.themissionbridge.com.