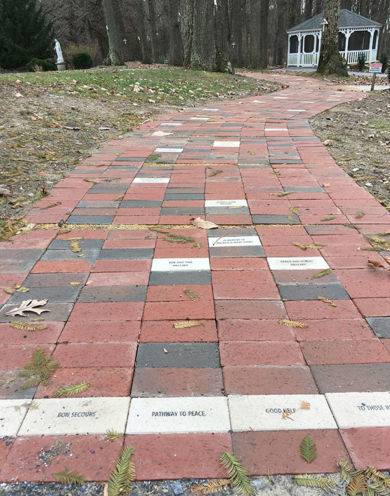 Purchase your own personalized brick to honor a loved one or to simply note your connection to our spiritual center.
Let us pray for peace; peace in the world and in each of our hearts. ~Pope Francis
Welcome to our "Pathway to Peace" – a brick walkway which extends from our walkway near the gazebo to the Peace Garden. This quiet pathway carries our guests to one of the most peaceful places on our campus. Especially needed in our world today, this is a beautiful physical place where guests can unite their prayers for peace and meditate as they take the journey to our Peace Garden. The path ends at the front of our lovely Peace Garden where the Worldwide Peace Pole stands, a symbol calling all who encounter it to pray for peace around our world.
World peace begins with inner peace. ~ Dalai Lama 
The pathway was created in celebration of the 50th anniversary of the Bon Secours Retreat and Conference Center in 2018 and continues to serve as a fundraising campaign to offset the operating expenses of the Center, a ministry of the Sisters of Bon Secours. The Sisters will proudly celebrate their 200th anniversary year in 2024 and we hope that friends of the Center will join us in marking this special milestone in their ministry with a commemorative brick too. We continue to replace the plain bricks in the pathway with specialized commemorative bricks, purchased in honor of loved ones, family and friends. Our hope is to see the pathway full of the names of those that have cherished our Center. By purchasing a commemorative brick, you can contribute to the beautiful grounds of Bon Secours and can be part of our continued legacy of "healing hospitality" as people journey to the Peace Garden. The purchase of these bricks will be 100% tax deductible.
Please click on the link below to visit our secure brick ordering website. You will insert your engraving information directly on the website and submit your donation there. You may also pay by check, mailed to our Center. Thank you for considering this fundraising campaign and for taking a step on our Pathway to Peace.