Fr. Patrick Bergquist is a familiar face at our Center. He has celebrated Mass in our Chapel many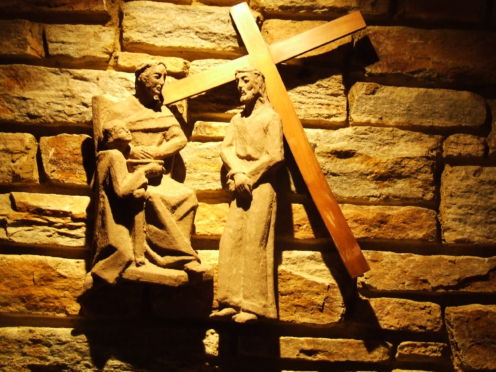 times and has also led retreats. He'll be a spiritual director during our long weekend directed retreat at the end of June. You can click here to learn more about him.
Fr. Pat offers this poetic reflection as we enter these holy days to mark the crucifixion and resurrection of Jesus. Let's remember that we're in God's presence and prayerfully read.
A Coronavirus Triduum
With the passing of each year, this one more than most, I grow more and more convinced that since the beginning, ours is a faith, fashioned and formed, deemed and destined to break hearts. And how could it be otherwise? I am more and more convicted of how our act of believing is less a matter of the mind, and more a wild, abandoned, even reckless affair of the heart – hearts which even now are blessed, broken and praying agian to be shared.
The Irish playwright, and lesser known poet, Oscar Wilde rejoiced to say: "Ah! Happy the day they whose hearts can break / And peace and pardon will. / How else may man make straight his plan / And save his soul from sin? / How else but through a broken heart / May the Lord Christ Enter in?" (taken from Ballad of Reading Gaol)
Entering into a Jerusalem of our hearts, into a week called holy, into a moment called Covid-19; we tentatively, hesitantly, frightfully step over the threshold of our ordinary everyday lives, holding our breath and plunging ourselves into the depths of these three truly remarkable Triduum days and nights.
Thursday, a day called holy, strangely will not this year find us sitting down at table breaking bread together as we've so often done. So instead we must savor, and feast on the words of the Welsh poet Dylan Thomas who laments, even as he prays: "This flesh you break, this blood you let / Makes desolation in the vein, / Were oat and grape / Born of sensual root and sap; / My wine you drink, my bread you snap." (taken from This Break I Break)
Friday, a day, a night, dared called good; will find a renewed relevance this year as we once again stumble and fall at the foot of the cross of Jesus. With no place to go, no other place we're allowed to go, we turn to face the stark, crucifying invitation of the American poet Mary Oliver who pined: "Someone I loved once gave me / a box of darkness. / It took me years to understand / that this, too, was a gift." (taken from The Uses of Sorrow)
Sunday, a day, a morning to reawaken a psalmist's dream of dawn; will find us peering over life's precipice, staring deeply into the empty void of God's own grave. Breathing in, breathing out, breathing in again, as if for the first time, the cyclical words carved upon the stone that marks the tomb of the English poet Thomas Stern Eliot, where we too are reminded: "In my beginning is my end…In my end is my beginning." (taken from East Coker)
Overthinking things and we're sure to miss the meaning of the three days, we'll fail to feel the full depth of heaven's impassioned week. And as much as we do sorely rely on the epidemiologists' expertise, perhaps it's the poets who will best see us through this week called holy. For they're the ones who fashion and form their words from deep within the human heart, deeper still within the soul, giving voices to our hopes, our dreams, our fears, our faith. So much so that the English poet Alexander Pope can confidently sing: "Hope springs eternal in the human breast: / Man never is, but always to be blest…" (taken An Essay on Man) And blessed we are and forever will be.