A few years ago, a Muslim man was visiting a small Trappist monastery in the Northern African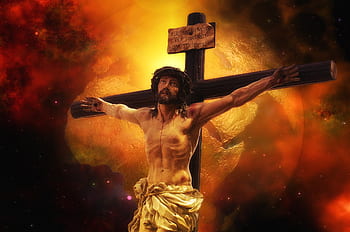 country of Algeria. This Muslim and the abbot of the monastery were friends and he was delighted to take his guest on a tour of the monastery. Eventually they came to the chapel. The Muslim stopped and gazed wistfully at the crucifix. After what seemed like several minutes of silence, the abbot asked his friend what he saw in the cross. The Muslim man said: "Actually, I see three crosses here, certainly two crosses. There is definitely the cross in front and the cross in the back. The one in the front is formed by the extended arms of Jesus. This human body was created by God and is the cross of God's embracing love. The second cross is the one behind Jesus. It was made of wood and made by humanity and is the cross of hatred. But it was love and not really nails that attached Jesus to this second cross. And it is this love which keeps drawing us forward to him."
The abbot could see all of this, but still puzzled, he asked his Muslim friend: "But what is the third cross that you see?" The visitor responded: "Ah! The third cross, it seems to me, is between the other two crosses. Isn't it perhaps you Christians struggling to loosen yourselves from the cross of evil and sin behind, so that you can bind yourselves to the cross of love in front? Isn't the struggle of moving from violence to peacemaking, from hatred to love? Isn't that struggle the third cross?" The abbot thought his Muslim friend quite insightful.
Today, Good Friday, we may be accustomed to being in church and being invited up to adore or venerate the cross by a kiss, a bow or the simple placement of our hand lovingly upon it. However, with our social distancing and restrictions from assembling during this pandemic, that is not an option. We might instead hold the crucifix of a rosary or one on our wall, or get a photo online and simply sit in silence before it. Every crucifix comprised of a body and a wooden cross gives us the ability to place ourselves between the love of Jesus and the wood of sin and become the instruments of God's love to others. O how much the world now cries out for our intervention of love and compassion. With whom in need am I willing to communicate that love and compassion today?
~Fr. Nicholas Amato
Fr. Nicholas was originally scheduled to present our Triduum retreat with Fr. Michael Schleupner and they would have celebrated our Good Friday liturgy. To learn more about Fr. Nicholas, please click here to read about his summer retreat at our Center.
---
Fr. Patrick Bergquist, another familiar face at our Center, also submitted a reflection for Good Friday. Fr. Pat will be with us this summer for a long weekend directed retreat. You can read more about him here.
A Coronavirus Good Friday
There's just something raw, something viscera, something primal about these days, these so called holy days. There's just something that cries out, that screams out from this gut-wrenching Friday we dare call good. The Norwegian expressionist Edvark Much painted this our silent scream and wrote as to why he did: "I was walking along the road with two friends. The sun was setting, suddenly the sky turned blood red, and I paused feeling exhausted and leaned on the fence. There was blood and tongues of fire about the blue-black fjords and the city, and my friends walked on, and I stood there trembling with anxiety and then…I sensed an infinite scream passing through the heavens…" Yes, a scream which even now passes through, Passes Over us like the avenging angel.
So long ago it began with a breath and a dream. Is this how it ends? With Death and a scream? Born from out of God's loneliness, God's longing we opened our eyes and took in our first awakened moment; and so began the story of an eternal but unrequited love. A love so blatant, so sublime. A heart freely offered, but then declined.
I've long been haunted, but nonetheless blessed, by a certain line buried deep within the six hundred and some pages of Dostoevsky's novel The Brothers Karamazov; a line wherein it says, "Love in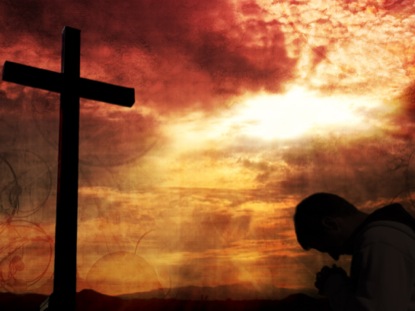 action is a harsh and dreadful thing, when compared to love in dreams." Good Friday, this Good Friday, abandons us here kneeling, trembling at the foot of the cross of Jesus. And now could it not? For it is here, could only be here, where heaven's hurt and humanity's hope perchance to meet and to embrace.
The stark, naked crucifying words of the poet Mary Oliver in her poem The Uses of Sorrow testifies to this place. Not only to its pain, but also to the love that cannot, that will not die; especially on this Friday dared called good, especially in this week called holy, especially in this time called corona. "Someone I loved once gave me / A box full of darkness" she wrote, "It took me years to understand / That this, too, was a gift."