Today's reflection has been submitted by our Guest Services Manager, Rose Kurtz. She has been missing the hustle and bustle of the normally busy Welcome Center. Like many of us, Rose has been spending a lot of the extra quiet time organizing things. Let's read about something special that she found.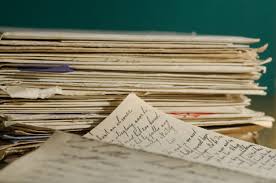 Faith & Hope
During this Pandemic, I find myself cleaning, organizing and setting free many things in my home. I am not sure who this is from, but I found it as I was sorting and organizing some things at home.
"Faith and hope are not about believing everything will be alright. They call us to our purpose: to love one another. They call us to constantly cultivate love in quiet ways through it all. They call us to use our gifts in service, by offering all manner of simple kindnesses, speaking truth to lies, protecting the vulnerable, striving for justice and championing peace. In turn, faith and hope promise us that no matter what happens, unexpected tangible support will arrive, joy and love will comfort us, and infallible guidance will lead us every step of the way."
I hope that this short reflection might bring comfort to those that read it.
Peace Be With You,
Rose