Today's post is another insightful reflection and meditation from retreat presenters Susan Boruff and Kathy Anderson. We're so grateful for all of their submissions for our blog during the pandemic and look forward to being able to host them at the Center again soon. Let's take a few quiet moments to read this reflection by Susan and then watch the video meditation at the end by Kathy.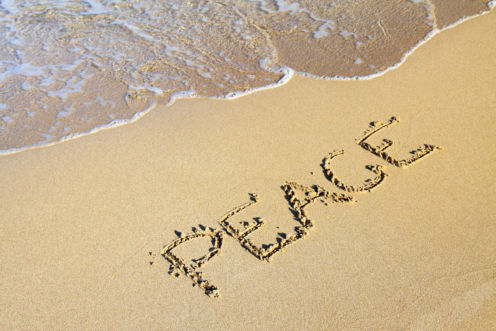 Drop Your Weapons
"Listen here, mortal: God has already made abundantly clear what 'good' is, and what God needs from you: simply do justice, love kindness, and humbly walk with your God." Micah 6:8
In last week's post, I mentioned the documentary Tiger King. I was told it was the most watched documentary on Netflix so I thought I'd take a look at it. I only made it through two episodes as I thought it exposed the "worst of humanity."
What I have come to realize over the past few weeks is that sometimes we need to be exposed to the "worst of humanity" in order to bring something new into the world. Wouldn't it be great to see that the deaths of over a 100,00 people from COVID-19 and the deaths of many of our black brothers and sisters can result in showing the "best of humanity."
The worldwide peaceful protests are showing us the "best of humanity." It is mixed with some looters showing the not so good side of humanity.
Jesus' death and resurrection revealed the "worst of humanity" and the "best of God" in three days. He sacrificed his life to bring out the best in us.
Do we want to let that invitation go to waste? Do we want to miss the opportunity to create new possibilities from the death of anyone at the hands of another?
If we truly believe in a God who created a world in which he can dwell among us,
a God whose creation is good and, in His image,
a God who sent his son to show us the true nature of God,
a God of love, mercy, justice and forgiveness,
a God who can resurrect the dead…then what is next for us?
If we truly believe, then let us let God transform our hearts and minds to enable us to do the good work he sent us to do.
I was heartened this past week to see so many of our white police officers showing solidarity with our black brothers and sisters. I saw white police officers "take a knee," shake hands and walk arm in arm during a pandemic, tell protesters they wanted to be their friend and walk with them. I saw black protesters protecting a white police officer whom had been separated from his fellow officers. Some police officers dropped their weapons and prayed with protesters.
Transformation of our hearts and minds would allow us to drop the arms making and walk arm in arm.
Fr. Thomas Keating, one of my teachers and founder of "Contemplative Outreach" passed away almost two years ago. About 13 days before he passed and after not speaking for four days, he said this:
"My friends, in the universe an extraordinary moment of civilization seems to be overtaking us. Through the great discovery of science and spirituality we find ourselves in essentially a new and different place than ever before in history.
It's a time of enormous expectancy and possibility.
I make this humble suggestion that now arms making is of no significance in the world, it hinders its progress. This will allow and offer the world the marvelous gift of beginning, creating, trusting each other, forgiving each other, showing compassion and care for the poor and putting all of our trust in the God of heaven and earth."
Fr. Keating taught that listening to God in silence can transform our hearts and minds at a deeper level. It is at this deep place where we are able to "drop our weapons."
"The world will not be destroyed by those who do evil, but by those that watch them without doing anything." ~ Albert Einstein
Now might be a good time to befriend silence in Kathy's meditation.
You are invited to find a quiet place to sit with your back straight, which opens up your chest and opens up your heart to receive. The meditation is 12 minutes and includes several pauses for silent reflection.
To learn more about Take Twelve Today, Kathy and Susan's ministry, please click here.