Today's reflection begins a series by Debra Donnelly-Barton. She is a frequent presenter at the Center and is sharing this beautiful series of reflections and prayer resources with us. Thank you, Debra! Let's take a few quiet moments to read her thoughts…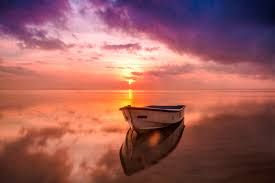 A Liturgy of the Living Earth
Praying the hours in tune with nature, Summer Meditations 2020
Gateways of the morning and the evening
Those who live at earth's farthest bounds are awed by your signs; you make the gateways of the morning and the evening shout for joy.
You visit the earth and water it, you greatly enrich it; the river of God is full of water; you provide the people with grain, for so you have prepared it.
You water its furrows abundantly, settling its ridges, softening it with showers, and blessing its growth.
-Psalm 65
We begin our summer meditation pilgrimage with Psalm 65 appointed for today's worship service. The psalmist reminds us that our liturgical actions are a response to God's loving-kindness to us and to the whole earth. Even dawn and twilight rejoice in the glorious works of God.
The transition from dark night to early dawn carries with it a hushed beauty. Here on the eastern shore the clouds and sky hang over a flat landscape and fill the eyes with beginnings. Sunlight eases its way over trees and fields seeming to awaken each leaf and blade of grass with illumination. Brilliant morning light reveals the tender contours of every object it touches. The world is new, once again.
With evening comes an elegant light to signal the coming night. Illumined in gold light creation reveals one last moment of poignant beauty. It is time to say good-bye to the day.
Monastic prayer hours follow daily moments already being prayed by the living earth. It is therefore no surprise that dawn and dusk, noon and night have become essential times to pause and look toward the One who created the hours.
For this month we shall time our rhythm to the praise, silence and lament uttered by the gateways of morning and evening. Listen to the chanting of rivers and trees. Sing with the choirs of birds, frogs and all manner of flying beings.
Let us move into the cadence of earth's liturgy.
Practice:
Tonight as the sun sets, or tomorrow as it rises, go out into the landscape. This can be from your porch, your yard, even a window that looks upon the sky. Spend some time just noticing the change of light. You might want to aid your memory with a photograph, a journal note, a poem, or a prayer.