Today's reflection comes from Fr. Michael Schleupner, a retreat presenter at our Center. He offers these helpful reminders for dealing with the pandemic. At a time when we may be disappointed about rising COVID numbers and how this is impacting our upcoming plans for Christmas, these can be helpful as we cope and take care of our physical and mental health. What do you implement in your daily life?
Hang in There
Dear Friends,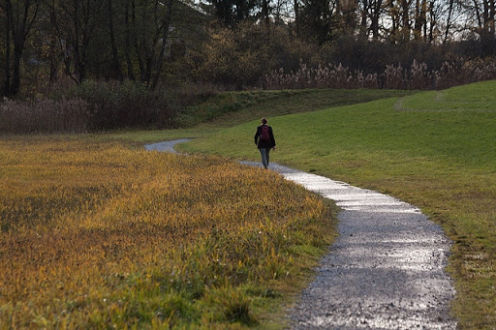 We are all very aware of the present dramatic surge in the Covid-19 pandemic. We are in a very difficult and painful moment. At the same time, there is hope. A vaccine might be ready for initial distribution before the end of December.
Still, it will be some months before that is generally available to all of us. So, my message today is: hang in there!
Embrace, like maybe we never have before, the virtue of perseverance. Perseverance means that we remain steadfast and faithful to some goal or responsibility even when it is difficult to do that. So, yes, wear a mask, stay socially distant, and wash our hands. These measures help to protect us and others from contracting the virus. They are proven ways of being good stewards of our body and caring for the common good of all.
And beyond these ways, here are some other recommendations for hanging in there, for persevering:
• Pray. Use prayers that you know by heart, go online for a variety of sources of prayer, watch Sunday, or even daily Mass being livestreamed. Drawing upon God for strength is important always and especially right now.
• Maintain a daily schedule. This is important so that we don't just passively go through the day with no sense of purpose. A schedule will help us to stay engaged in life and use well the time God gives us.
• Stay connected. Be caring and patient with those in our household. Reach out by phone, email, text, or other social media to family, friends, neighbors, co-workers, or fellow parishioners.
• Exercise. Stay physically active at least by cleaning or doing laundry. Take a walk outside, run, jog, or do whatever form of exercise works for you.
• Limit news. Stay up on the news to know what is happening. But limit this to an hour a day and don't let it become all-consuming and life-draining.
Hang in there! Persevere!
~Father Michael Schleupner
Remember that our grounds are always open and available too! Walking the labyrinth or around the reflecting pond can provide a nice space for exercise and prayer.