Today's post comes from Tara Mulder. Tara is one of the friendly faces you may have seen in our Welcome Center. She serves as the Guest Services Coordinator and assists with conference group and retreat reservations. Tara is also a very talented artist. She'll be sharing a follow-up 2020 Christmas card post next week. Let's read about her creative process and Scripture insights used with her Christmas cards.
With Every Christmas Card I Write, Part 1
For Christmas 2019, I was not going to send cards. As an artist, I feel pressure to make my own but are they worth the bother? Would anyone notice the absence? I could always send Valentine or other cards later in the year. But then I thought I should make one for my mother and my best friend, both people who really appreciate cards.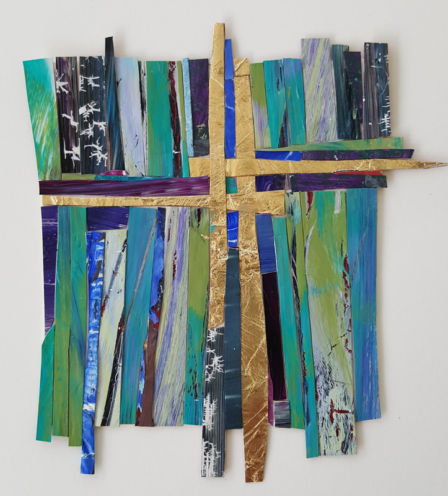 I started with Scripture, hunting up the usual Christmas passages- prophesies of the promised Messiah and accounts of his birth. In the gospel of John, I found gold. While the gospel of Matthew zooms in on the details of the night there was no room in the inn, John zooms out to the big picture, the why. John 1:14 starts off, "The Word became flesh and dwelt among us…" We hear this part often. The entire Christmas story in eight words. Jesus, the Word, coexistent with the Father, makes good on the promise to be Immanuel, God with us, in the most humble and fragile way possible.
He also came in glory, fully God as well as fully human. The verse continues, "and we have seen his glory, glory as of the only Son of the Father, full of grace and truth." He became flesh in order to be the final atoning sacrifice for the sin that Adam and Eve let out of the bag. We sing a lot of "glorias" at Christmas but my mind went to the glory of the cross, when adult Jesus took my place. He took to the cross, took into his flesh, all my sin, all my selfishness, everything in me that is contrary to him. By enduring the cross, held there by his obedience as much or more than any nail, and being raised from the grave on the third day, he washed away all that awful as if it never existed. Freed me from it. Restored my relationship with the Father as if Adam and Eve had never broken it. Grace undeserved. Truth revealed.
Fueled by the image of the cross and the phrase, "…and we have seen his glory…" I got to work. My media / method is to make mosaics from strips of "palette trash," dried acrylic paint peeled off a plastic surface. Since I was working small, two to four inches square, I was able to use scraps from previous mosaics. Suddenly tiny pieces of palette trash I'd been meaning to throw away became precious. Two crosses turned into four. Then I was on a roll. I had to scrounge more envelopes and buy more stamps. Each cross was carefully selected for its recipient. Dropping the cards into the mail, my heart was light. I didn't worry what people would think of them or if they would be valued. The process of making art from trash and meditating on my Savior's love for me was all joy and no bother.
For Christmas 2020, I'm excited to make another batch of cards. It's tempting to make more crosses, but with a fresh look into Scripture and a whole year's worth of scraps at the ready, I hope to push myself to try something new.
To learn more about Tara's art, visit her website by clicking here.