Christmas Day is only a few days away! How are you preparing your heart for the birth of Jesus? Today's reflection is a continuation from last Friday by Tara Mulder, our Guest Services Coordinator. Let's read this follow-up about her creative process for this year's Christmas cards, an inspiring post about the perfect love of our Savior.
With Every Christmas Card I Write, Part 2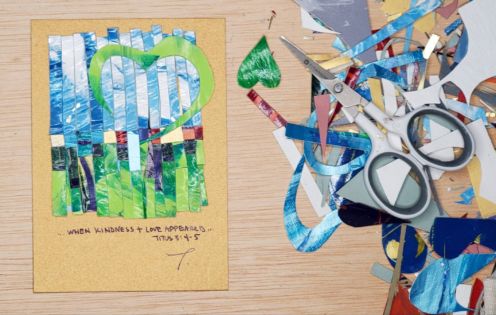 Back in September of this strange and difficult year, I starting researching Scripture passages to inspire my 2020 Christmas card. I had so much fun making cards last year, using the same mosaic method I use to make art, that I was excited to get started. I looked for verses pointing to Jesus with key words lending themselves to visuals: star, light, heart, etc. Straight lines, like the ones in the crosses I made for 2019, are more practical for mosaics but I wanted to push myself. Hearts.
Zeroing in on the passage from about five options was fun. I read the verses in different translations of the Bible, seeking context and nuance. Reading the verses aloud helps too – tasting the words, hearing their music. In end, and confirmed by my mother's instant positive reaction, I landed on Titus 3: 4 – 5. "Ooo, that's good," she said. "Titus doesn't get quoted enough." She would know! My mom reads the Bible every day. She's read the entire Bible through nine or ten times in the past 20 years, finding fresh insights and deepening her relationship with God each time. But back to Titus. It's a letter the Apostle Paul wrote to Titus. It's full of instructions, notes on leadership qualifications, reminders to do good. After a list of ways life was hopeless before Jesus, Paul says:
      "But when the kindness and love of God our Savior appeared, he saved us, not because of righteous things we had done, but because of his mercy…"
The word "appeared" popped out to me. It took me right to Christmas and Epiphany with the appearance of the angels and the star announcing that the Savior had come as promised. Kindness and love…heart-tastic. The reminder about receiving love and being saved not because of anything I have done was the clincher. It's easy to be caught up in the cosmic scorecard, focusing on what I do, which is a recipe for false pride and depression in my case. God our Savior appeared and laid down his life despite whatever I have done or fail to do. He appeared out of perfect love and kindness for imperfect me. We are urged to do good as a way of sharing undeserved love, not to earn it. That's what I'm celebrating this Christmas.
For the mosaics, zeroing in on a "look" came next. Working small affords me the opportunity to play and experiment, so I've learned to let the first few be bad until I find my stride. The first was so bad, however, that I almost gave up. Maybe last year's cards were a one hit wonder? This is COVID-Christmas so no obligatory anything, right? But willing to fail, I made another. And another. I'm on a roll again, praise God, and need to buy more stamps.