But while he thought on these things, behold, the angel of the Lord appeared unto him in a dream, saying, Joseph, thou son of David, fear not to take unto thee Mary thy wife: for that which is conceived in her is of the Holy Ghost. And she shall bring forth a son, and thou shalt call his name Jesus: for he shall save his people from their sins. ~Matt. 1:20-21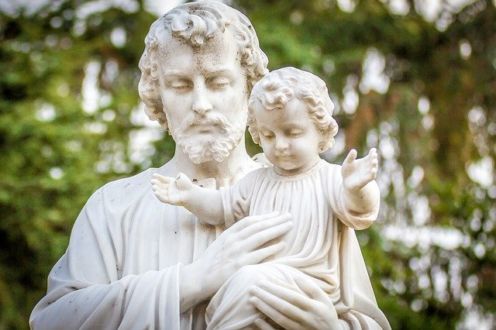 Pope Francis has declared this as the year of Saint Joseph, describing him as "…a beloved father, a tender and loving father, an obedient father, an accepting father; a father who is creatively courageous, a working father, a father in the shadows". Fresh from Christmas, we have been reminded of the faith, humility and love that Joseph showed.
Pope Francis shares this prayer with us:
Hail, Guardian of the Redeemer,
Spouse of the Blessed Virgin Mary.
To you God entrusted his only Son;
in you Mary placed her trust;
with you Christ became man.
Blessed Joseph, to us too,
show yourself a father
and guide us in the path of life.
Obtain for us grace, mercy, and courage,
and defend us from every evil.  Amen.
Then Joseph being raised from sleep did as the angel of the Lord had bidden him, and took unto him his wife: And knew her not till she had brought forth her firstborn son: and he called his name Jesus. ~Matt. 1:24-25
How can we incorporate his example into our lives this year? Share your thoughts in the comments if you can.
We also recommend another reading about Joseph on the Ignatian Spirituality website that you can find here.