Today's reflection comes from Jen Murphy, Manager of Retreats & Events. Let's read her unique reflection about this festive day.
---
Happy St. Patrick's Day!
That fun-filled greeting now has new meaning to me. Last year at the Retreat & Conference Center, as we had for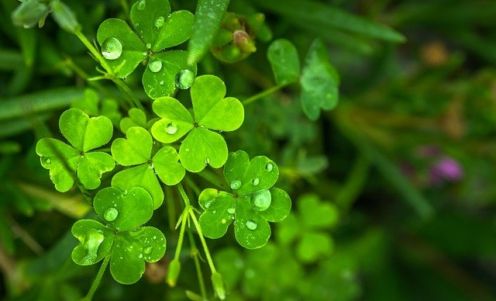 many years before, I was looking forward to another fun St. Patrick's Day event, held on the Sunday before the upcoming weekday holiday. As that date approached though, growing concerns about the pandemic forced it's sudden cancellation. It was the first of many cancellations to come.
A few days later, we were forced to close the Center's doors. During the days preceding our closure, we were busy with calls to presenters and guests to deliver the bad news. My coworkers and I were weary from those tasks and anxious about the unknown. March 17 had come and gone without fanfare. We walked out of the building on March 18 with laptops and office plants, expecting to be reunited just a few weeks later when the virus was under control. As we all know, our hopes were devastated when those weeks turned into months. Working from home in the months that followed our exit, we cancelled many, many more retreats and conference reservations, wondering when we would all be reunited again.
Then, last July, we happily reopened our doors! We were so grateful to see each other in person, even with masks on and from a distance. Gradually, more and more retreats were held and small conference groups visited. Now, a year later, many of those guests are returning again and again, assured by our safety procedures and eager to receive spiritual nourishment and companionship. They are thrilled to be back at the Center and we are so happy to see them too! In recent weeks, we've seen a spike in future reservations as COVID numbers have dropped and many have received their vaccines too. There is a new energy around the Retreat & Conference Center. Hope is rising!
Although social distancing still isn't conducive to a festive St. Patrick's Day gathering with singing and dancing, we are so grateful for our other capacities to host guests for retreats and conferences now. Indeed, we still have much to celebrate this St. Patty's Day! I can also assure you, after cancelling two annual celebrations, next year will welcome in the best St. Patrick's Day celebration yet! Slainté!
The breastplate prayer of St. Patrick is one of my favorites. It now takes on new meaning as I reflect on our losses during the pandemic and our hopes in the future. Let's take a quiet moment to pray in hope and in gratitude for God's unwavering strength…
I arise today
Through a mighty strength, the invocation of the Trinity,
Through belief in the Threeness,
Through confession of the Oneness
of the Creator of creation.
I arise today
Through the strength of Christ's birth with His baptism,
Through the strength of His crucifixion with His burial,
Through the strength of His resurrection with His ascension,
Through the strength of His descent for the judgment of doom.
I arise today
Through the strength of the love of cherubim,
In the obedience of angels,
In the service of archangels,
In the hope of resurrection to meet with reward,
In the prayers of patriarchs,
In the predictions of prophets,
In the preaching of apostles,
In the faith of confessors,
In the innocence of holy virgins,
In the deeds of righteous men.
I arise today, through
The strength of heaven,
The light of the sun,
The radiance of the moon,
The splendor of fire,
The speed of lightning,
The swiftness of wind,
The depth of the sea,
The stability of the earth,
The firmness of rock.
I arise today, through
God's strength to pilot me,
God's might to uphold me,
God's wisdom to guide me,
God's eye to look before me,
God's ear to hear me,
God's word to speak for me,
God's hand to guard me,
God's shield to protect me,
God's host to save me
From snares of devils,
From temptation of vices,
From everyone who shall wish me ill,
afar and near.
I summon today
All these powers between me and those evils,
Against every cruel and merciless power
that may oppose my body and soul,
Against incantations of false prophets,
Against black laws of pagandom,
Against false laws of heretics,
Against craft of idolatry,
Against spells of witches and smiths and wizards,
Against every knowledge that corrupts man's body and soul;
Christ to shield me today
Against poison, against burning,
Against drowning, against wounding,
So that there may come to me an abundance of reward.
Christ with me,
Christ before me,
Christ behind me,
Christ in me,
Christ beneath me,
Christ above me,
Christ on my right,
Christ on my left,
Christ when I lie down,
Christ when I sit down,
Christ when I arise,
Christ in the heart of every man who thinks of me,
Christ in the mouth of everyone who speaks of me,
Christ in every eye that sees me,
Christ in every ear that hears me.
Amen