Today's blog comes from our Guest Services Coordinator and a gifted artist, Tara Mulder. She reflects upon a recent virtual retreat that she attended through our Center and how it inspired another beautiful piece of art!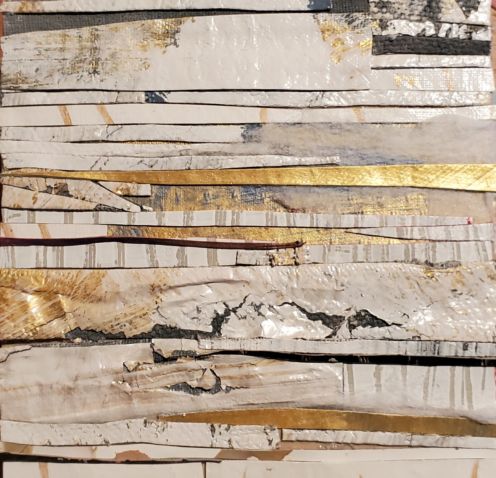 ---
Lazarus and the Light
This little number started as a sketch during a spiritual retreat with poet Kathy Staudt, offered by Bon Secours Retreat & Conference Center. The Center, where I have the most wonderful day job, hosts a variety of in-person and virtual retreats that speak to mind, body, and spirit. Kathy Staudt's retreat was inspired by a painting that hangs at the Center, a tender scene of Jesus with the famous sisters, Martha and Mary.
The retreat was entitled, "A Sojourn at Bethany" and incorporated Scripture, poetry, and purposeful silences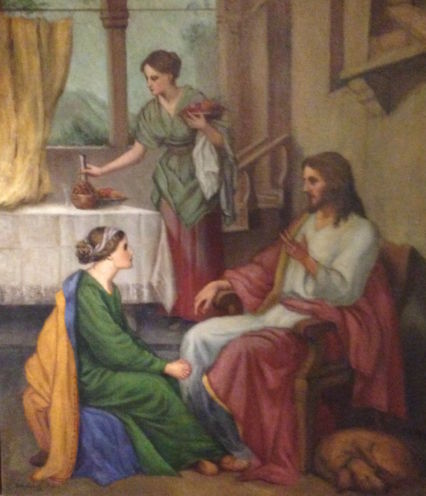 as well as art. In terms of Scripture, Kathy dove into all we know of Bethany including the account of Jesus calling Lazarus from the grave. I had not connected this story to Lent previously but learned it is commonly read the Sunday before Easter in some churches in preparation for recounting Christ's own resurrection. It was a line from a poem of Kathy's that set my mind and spirit working, soon followed by my hands. Imagining what it might have been like for Lazarus to be raised from the dead, she named a tension between hearing a trusted voice while being uncertain what was happening. But in a literal step of faith, Lazarus moves forward anyway, "Blind and bound, I hobble toward the light."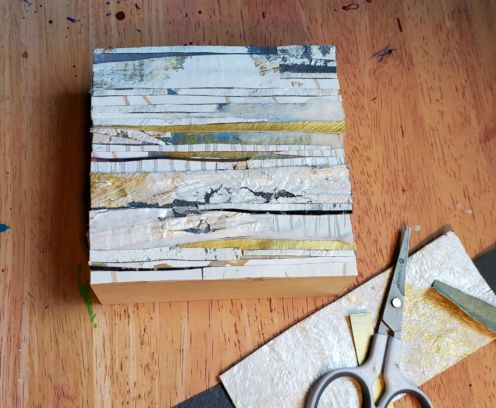 During a time of silence following Kathy's reading of the poem, I imagined looking through strips of cloth. Historically speaking, I think Lazarus' head was more likely covered in a single piece of cloth (did I hear that in a sermon once?) but the idea of being "bound" sent me sketching horizontal bands. Strips of cloth, layers of strips. Golden light penetrating just a bit where layers were thinner. A hint of blue for sky behind the light streaming in where the stone had been rolled away. And maybe the strips of cloth were a bit, um, crusty? Dark remains of decay. I gathered palette trash – btw this was a virtual retreat so I was in my studio – in golds, whites, grays. A bit of gauze added a textural element.
First I applied a piece of pale iridescent blue with gold streaks to be the light Lazarus moved toward. Then horizonal bands of white and gold. A few I roughed up a bit to reveal grey cloth under the paint. If a literal interpretation was my aim, I would have used fewer, wider, strips to reflect the proportions of the eyes. But on a 4 x 4 inch square, I thought the nod to reality might have been lost. So I let the dimensions of the square in front of me be my guide. The result of using so many strips was a reminder that many things bind us. While I know I'm free through Christ's death and resurrection, following him can be hobbled by the invisible bonds of dark doubt, layer after layer of self-centeredness, and good old-fashioned crusty rebellion. A friend who was also part of the retreat said the piece made her think of light coming through stone of the tomb, of Christ's resurrection. Hearing that made me want to touch the stones and feel their sun-warmed chalkiness.
Working horizontally was a nice change as well. I'll meditate a bit more on scenes from Bethany and see what other inspirations set my hands moving. That will be a fitting tribute to the fact that the answer to the Mary / Martha dilemma is always… both /and.
To learn more about Tara's artwork, please visit her website by clicking here.