Here in Marriottsville, we've been enjoying really beautiful weather this week! Nature is rejoicing in this Easter season too! Parts of the campus have bloomed and others are simply bursting with buds in anticipation of a few more days of sunshine. Our hearts are full of gratitude for the season and also full of hope as more staff members become vaccinated and guests share that they are now vaccinated too. It's certainly a springtime of hope!
Are you enjoying these early Spring days too? Comment and share about the flowers and trees in your neck of the woods.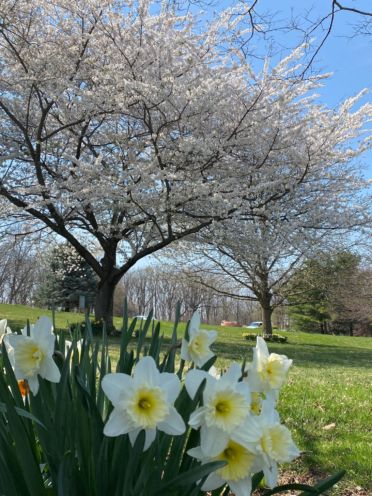 Spring Garden
So when I looked at those flowers,
I was looking at God
For they bloomed in His sun
and grew in His sod
And each lovely flower
was a "voice from above"
That whispered a message
of kindness and love
For I feel in my heart,
and I know you do, too,
That God speaks to us all
through the kind things we do
And when I looked at those flowers
I couldn't help but feel
That they brought heaven nearer
and made God so real.
~ Helen Steiner Rice