Today's blog comes from Jen Murphy, Manager of Retreats & Events at the Center. Let's read her thoughts about one of spring's early booms.
---
One of my favorite things about spring is the flowers. Daffodils and tulips are my absolute favorite flowers. Their cheery blooms brighten any day, breaking us from winter's dreariness. There's another flower that I have to give a lot of credit to though, the pansy. Over the years, I've planted them around my yard in early springtime when the weather doesn't permit the planting of my summer annuals and my favorite spring bulbs haven't sprouted yet. When the temperatures rise though, pansies begin to wilt and brown, often prompting me to pull them by May when I begin to plant petunias, geraniums, lobelia, gerbera daisies and more. So, these small pansy blooms are normally just temporary spots of color in my brown and grey yard of late winter/early spring.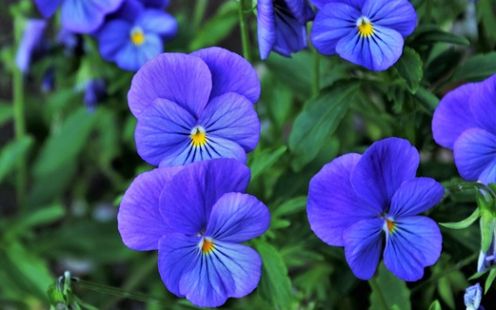 Although pansies are technically perennials, having the potential to come back the next spring, our Maryland winters (especially this year's snowy one!) will often abolish that potential for those that I haven't already pulled the summer before. One late March evening after work, I browsed through my yard to see if I could catch a glimpse of any sprouting bulbs. A patch of vivid periwinkle petals caught my eye. There, in the corner by my front door stoop, was a little patch of fresh pansies that I hadn't planted this year. I remembered planting them last March, but I also clearly remembered pulling them out after they had wilted so that I could make room for fresh annuals. Yet, here they were, persistently displaying their beauty! This spring surprise reminded me that, especially throughout the pandemic, although I've often felt defeated and worn down, my faith has pushed me to be resilient. Indeed, hope can push me through even the toughest of days to grow and bloom too. This persistence can also be shared and hope can spread like the blooms multiplying before me.
The poem below reminded me of the pansies standing tall to face the sunshine above. I hope that nature's colors inspire your faith this spring too. If you're so inclined, comment below about your lessons from nature. We'd love to hear about your spring discoveries!
I stood
I stood,
I knew it was a test
I knew when it was over
I would be blessed.
I hung on,
I did not break down
I knew I had to keep
my heart and mind sound.
I was firm,
I did not move
I knew my faith in God
He wanted me to prove.
I endured,
I did not waiver
I held on tight
to my Lord and Savior.
I persevered,
I did not let go
I knew my trust in God
He needed me to show.
I stood,
I kept on solid ground
I remained steadfast
I did not fall down!
~Deborah Ann Belka