Today's post is a powerful excerpt from "Fearless Conversations with a Limitless God" by Dr. Veirdre Jackson. She will be returning to the Center this September as the featured speaker for annual Women's Wellness retreat and we're so excited to host her again. Let's read this short excerpt, based on a familiar passage from scripture….
Stepping into Peace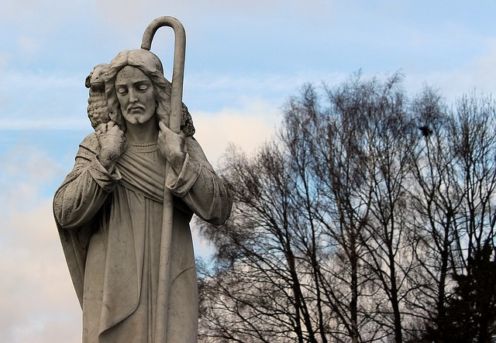 "Yes, though I walk through the valley of the shadow of death, I will fear no evil; For You are with me; Your rod and Your staff, the comfort me." Psalm 23:4
It is in those valley moments that I learn the character of God because I experience His strength, stability, and girding when I feel threatened by the shadow, but I also realize there cannot be a shadow if there isn't light as well. Even in those dark valley moments, the light of our God is present. He's there! My comfort comes with the strength and stability of the Shepherd's rod and staff. The rod represents protection from outward dangers, and the staff represents correction and boundaries when I am wandering. Psalm 23:4 reminds us of two types of enemies that show up in our fight in the valley in the presence of our Shepherd. For the external fight that I need protection from, our Shepherd's rod becomes a safeguard when threat enters my life. The second enemy is the enemy in me. The staff is used for those times when my internal battle in my mind, soul, and spirit begins to create distraction and confusion. He stays with me even when I stray from Him. The staff is designed as a tool with a big hook on the end. It is used to hook onto wandering sheep. I remember a time when, although I had been beaten up by the offenses and hurts of an external enemy, it was the internal wounds that I battled with as I tried to pull away from God. The emotions of anger, bitterness, fear, and frustration had a field day in my mind and distorted my perspective of God based on my perception of man. But no matter how hard I tried to run from Him, his staff encircled me in safety. His patience offered a mercy and grace that looped me in and gave me peace beyond my understanding–so much so that reflecting on His character and consistency in those times brings me safety and security in my battles now.
To read more about Veirdre and her upcoming retreat, please click here.
---
The LORD is my shepherd,
I shall not want.  
He makes me lie down in green pastures;
He leads me beside quiet waters.  
He restores my soul;
He guides me in the paths of righteousness For His name's sake.  
Even though I walk through the valley of the shadow of death,
I fear no evil, for You are with me;
Your rod and Your staff, they comfort me.
You prepare a table before me in the presence of my enemies;
You have anointed my head with oil;
My cup overflows.  
Surely goodness and lovingkindness will follow me all the days of my life,
And I will dwell in the house of the LORD forever. Psalm 23:1-6