After a much anticipated build-up of cicada talk, we are finally starting to see a few around the Retreat & Conference Center. Their "buzz" hasn't begun yet and we do hope these new neighbors will be able to keep it down a bit during their stay. 😉 The unique life cycle of these insects certainly piques our interest every 17 years, doesn't it? Can you imagine the anticipation if our lives were so brief? The amazing features of the cicada are like so many other lessons in nature, fascinating details made by our Creator! Maybe this reflection can help us to have a deeper appreciation for today, something that we don't have to wait 17 years to enjoy. Do you have cicada visitors in your area yet? Share with us!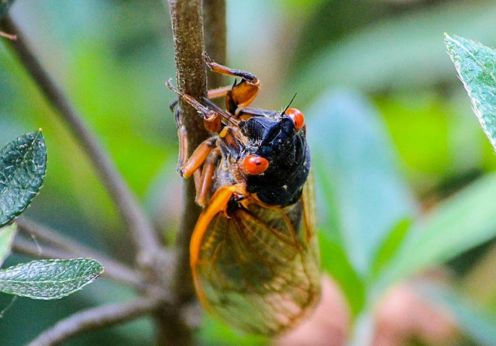 Cicadas
There is, I know, some benefit in this,
this cycle of emerging, breeding, dying-
so brief a time for knowing any bliss,
or making friends, or new endeavors trying –
only to bring forth offspring which will know
a dark, damp, subterranean home for years,
preserving life that one day it might show
itself to curious humans, ring our ears
and give us pause to contemplate how odd
sometimes, the workings of our all-wise God.
~T. M. Moore
His Presence
A friend of mine once asked me
Just how could I believe
In someone I never saw,
Nor spoken words received.
I thought, perhaps, I should explain
Just why I have no doubt
That it was God's creativeness
That brought this world about.
I only have to look around
To know that He is there.
I see and feel and hear Him.
That's why I'm so aware.
I see Him in the raindrops
That nourish trees and flowers.
I see Him in the rainbows
That sometimes follow showers.
I see Him in a mother's love
When looking at her child.
So thankful that this miracle
Is pure and undefiled.
I see Him in the wrinkled face
That's seen so many years,
Knowing it was faith in Him
That overcame all fears.
I hear Him when a meadowlark
Trills out its joyful song.
I hear Him when the thunder
Comes forth so loud and strong.
I see the beauty of Him
In the butterflies on wing.
The feathers of the peacock
Are the colors He can bring.
I feel Him when a playful breeze
Blows gently through my hair.
When the sun shines warmly on my face,
I know that He is there.
His strength shows in the mountains
And the ever pounding seas.
A kitten's purred affection
Shows how gentle love can be.
It's true I have no pictures
To hang upon my wall.
I do not need a portrait,
His presence to recall.
For those who wish to listen,
It is played throughout the land.
The symphony of life itself,
Directed by His hand.
~Alora M. Knight