Today's blog may seem to be an unusual spiritual topic, but Fr. Michael Schleupner shares a personal viewpoint about how he sees spiritual reasoning behind getting the COVID-19 vaccine. Many of our guests are feeling more comfortable with coming back to the Center after receiving their vaccine too. Let's read Fr. Mike's thoughts. We have also included a brief prayer for the vaccinated after his reflection.
The Vaccine
Dear Friends,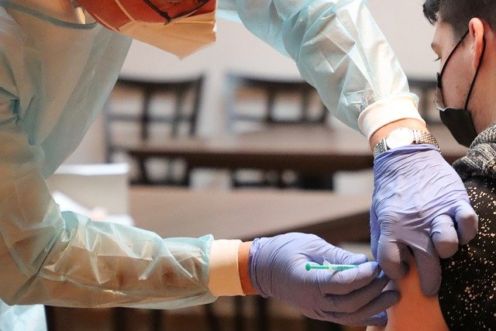 Today I want to share with you my spiritual reasons for getting the Covid vaccine. I received the vaccine (two doses) as soon as I had the opportunity. Yes, I did pay attention to the reports about it and did talk with my brother who is a medical doctor with a specialty and practice in infectious disease for over forty years.
Nevertheless, aside from the science, there were three spiritual reasons motivating me to get vaccinated.
First, I believe that God usually acts through ordinary means. God can do the extraordinary, like the miracles we hear about in the gospels.
But most of the time, God acts through the ordinary. I believe that God's healing action was at work in our scientists who were able to develop this vaccine. God usually acts through the human, through other persons, and I believe God has done so here. The vaccine has saved and will save countless lives.
Second, part of the stewardship that God expects of us is to take care of our bodies. This can mean lots of things – like exercise and good diet.
In this instance, being a good steward of my body led me to get vaccinated. The Church teaches that we do not have to resort to extraordinary means to preserve or care for life, but we do need to use ordinary means for this. I see the vaccine as an ordinary means to care for my health – to be a good steward of my body.
And third, I believe in our Catholic or Christian moral principle of the common good. According to this principle, we are to act in accord for the common good of society. This means that our actions should be geared not just to what I want or prefer, but to what is for the overall good of everyone. In this instance, being vaccinated is, for me, acting on behalf of the common good of our society and of our world. My doing this helps to break the cycle or transmission of this dangerous disease and, in that way, promotes the overall good of all God's daughters and sons on this earth.
I am happy to share these personal reflections with you.
~Father Michael Schleupner
This link connects to Father Mike's current and past Inbox Inspirations: www.fathermikeinboxblog.blogspot.com.
Prayer for People Being Vaccinated
God who answers in times of distress and saves, "Healer of broken hearts who binds their wounds" (Psalm 147), who shares divine wisdom with flesh and blood and has given us understanding, science and discernment to create this vaccine:
May it be Your will that through the power of this human effort aided by God who graciously grants humans knowledge and teaches mortals understanding, science and discernment that I merit health and resilience so that these verses may be fulfilled for us: "I have removed illness from your midst" "for I the ETERNAL am your healer" (Exodus 23; 15). "Let them praise the ETERNAL for God's steadfast love and wondrous deeds for humanity" (Psalm 107).
Praised are You who brings healing to all flesh and does wonders.
~Rabbi Andrew Sacks