As a ministry of the Sisters of Bon Secours, we strive to fulfill their mission through many facets here at the Center. One of these areas of attention is our 'care of creation'. We do so by recycling and reusing anything possible and this has been evident at the Center with our reusable cups and recycling containers for years.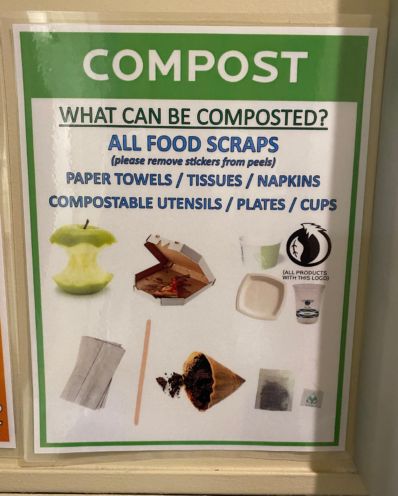 We are proud to share that we also compost unused food and some paper waste now! Our composting project started in mid March with 297 lbs. of waste diverted. In May, when the number of guests visiting our Center increased, our numbers skyrocketed to 1,491 lbs.! Key City Compost provides monthly reports about our composting contributions and they shared the offset equivalents for May. This would equal CO2 emissions from 60 gallons of gas, greenhouse gas from 1,357 miles miles driven, carbon sequestered by 4 tree seedlings grown for 10 years and CO2 emissions from 65,687 smart phones charged!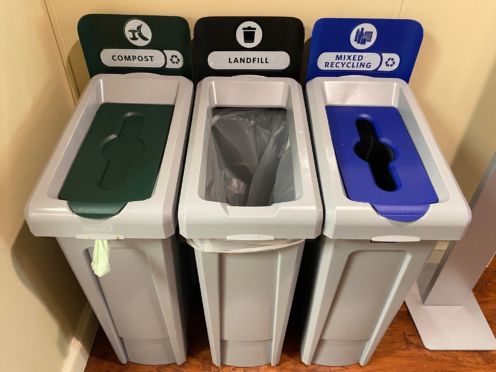 We have bins for composting waste in the dining rooms like those pictured here, and also in both hospitality areas, at the pool, in the private dining room and in the breakroom. Signs in these areas explain how to sort waste too. This small effort of putting food waste in a different bin has added up to great numbers and we look forward to setting more records soon!
An End to Waste
Let us pray for an end to the
Waste and desecration of God's creation
For access to the fruits of creation
To be shared equally among all people
And for communities and nations to find sustenance
In the fruits of the earth and the water God has given us.
Almighty God, you created the world and gave it
Into our care so that, in obedience to you,
We might serve all people:
Inspire us to use the riches of creation with wisdom,
and to ensure that their blessings are shared by all;
That, trusting in your bounty, all people may be
Empowered to seek freedom from poverty, famine, and oppression.