Fr. Michael Schleupner offers today's reflection. It is from a homily given during Mass a few weeks ago and shares a powerful example. It begs to ask, "how am I being inclusive within my everyday life?" Let's take a few quiet moments to learn from scripture.
Readings:   Genesis 17:1, 9-10, 15-22 ; Matthew 8:1-4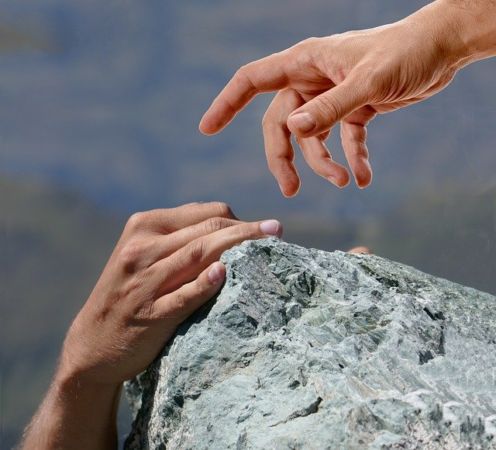 Jesus has just finished speaking – the rather long Sermon on the Mount. Now, according to Saint Matthew's gospel, he immediately puts into practice what he has been saying.
A man who is a leper approaches Jesus. Lepers were supposed to shout out "Unclean! Unclean!"  They were seen as ritually unclean, and anyone who even came near them was also seen that way. That's why they were supposed to warn others not to get close to them. But here, this man recognizes something unique about Jesus.
And, even though he dares to approach Jesus, he is very humble. He bows and probably even kneels down before Jesus. Then he addresses Jesus as Lord – a title that shows Jesus' superior, maybe even divine status.
"Lord, if you wish, you can make me clean."
The man with leprosy doesn't assume that Jesus will heal him. Instead, he humbly begs him to do that. And what does Jesus do? He touches him – an action that according to the religious law, makes Jesus unclean.
But amazingly, the reverse happens.
Instead of Jesus becoming unclean, the leper is made clean. And notice that Jesus doesn't have to touch the man. He could have healed him with words only, from a distance – something that we see in the very next verses of Matthew's gospel, the next healing that Jesus does.
But here, Jesus touches the leper who asks for healing.
He does this because he wants to make sure that this man knows that he is loved and is no longer being treated as an outcast, as excluded from the community.
And that leads to the last thing I want to note. Jesus reaches beyond the boundaries of the day. Here, in this healing, he touches a person, maybe a Jew, but a person whom the religious law told him not to touch. Immediately after this, he heals a non-Jew, and then he heals a woman. So, no one is excluded, distanced, or pushed away.
Everyone is included in Jesus' reach. He is inclusive of all.
Jesus gives us a great example. He lives out what he has spoken in the Sermon on the Mount. And, as he has done, so we are to do.
~Father Michael Schleupner