Book Recommendation:
We are happy to have Sr. Chris Kollhoffer, IHM with us for a Lenten retreat next spring (click here to learn more). Sr. Chris is the author of Longing for the Endless Immensity and offered this excerpt for our blog today. If these themes and prayer practices interest you, we recommend purchasing the book to learn more and it will be available in our bookstore soon too.
Longing for the Endless Immensity:
Reflection and Prayer for Living a Life that Matters
If you want to build a ship,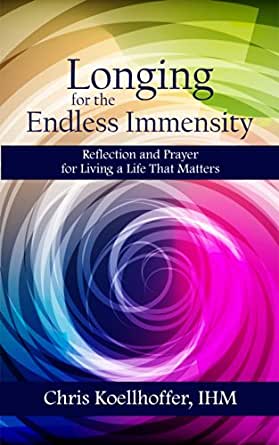 don't drum up people to collect wood
and don't assign them tasks and work.
Rather, teach them to long
for the endless immensity of the sea.
– Antoine de Saint Exupery
Within our hearts is a profound longing to live a life of significance, to make meaning out of our inner experience in ways that will enrich and influence our world. Longing for the Endless Immensity speaks to this collective desire and invites us to enter into every moment of our lives as an arena for living contemplatively, for doing justice, for moving forward with intention. This book underscores the wisdom that no aspect of our everyday living is without impact on our evolving universe.
Imagine the transformation that could happen in our world if we lived with mindfulness, conscious of our place in the universe. If we claimed as our purpose for being on this planet what Thich Nhat Hanh describes as awakening from the illusion of our separateness. If we viewed every aspect of our lives, from the seemingly mundane to the extraordinary, as an arena for justice. If we prayed and reflected and labored as though everything we do lasts forever, because in God's time, it does.
This book was born of just such imagining and longing.
Each section begins and closes with breathprayer, offers a though-provoking reflection, invites time for stillness and personal prayer, and suggests questions for journaling or group conversation and sharing. Longing for the Endless Immensity is recommended for parish groups, religious communities, adult spirituality formation, faith-based gatherings, peace and justice groups, and anyone hoping to leave a graced footprint on this earth by living a life that matters.