Today's post comes from our Retreats & Events Manager, Jen Murphy. Let's read her reflection about perspective and take a moment to pray for those who are hungry all around the world.
Perspective
After the weekly grocery store trip for my family of four (the 5th is currently away at college) I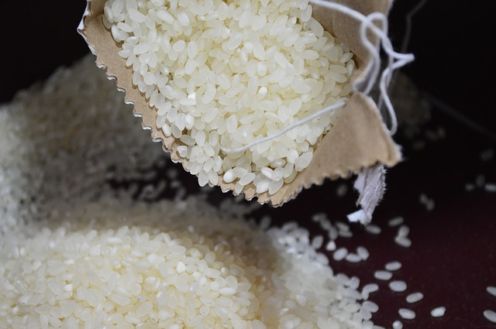 came home and complained to my husband about the lack of stock and variety on the shelves, as well as the rising prices. My kids joined in, asking about a specific snack that wasn't in stock and expressed their disappointment in the substitute too.
Just a few days later, we participated in a day of service that my husband's employer had organized. They partnered with an organization called "Kids Against Hunger". Approximately 50 employees and their family members joined forces around multiple assembly lines to put bags of food together. It wasn't what I had expected though. We weren't gathering canned foods into grocery bags for local needy families. We were assembling plastic, pre-labeled bags, each filled with a cup of rice, a cup of soy, dried vegetables and powered vitamins, sealing them and then packing them into boxes for the people of Haiti. Each bag was only a smidge larger than what my family normally cooks for a rice side dish, yet these bags contained six servings. Each serving was designed to function as an entire meal. At one point that morning, I noted this to my son who was working next to me. He was shocked, sharing that we would normally have a healthy portion of chicken and vegetables with our rice like this and maybe even dessert too. He couldn't believe that someone would be not only satisfied, but happy to receive a dish that was 1/6th of the bag we were packing for their meal.
Although I remember daily how fortunate we are, it really is hard to grasp being in a situation where you are so grateful to receive a small dish of rice. As my 11-year-old daughter began to wane from standing at the assembly line for a few hours, I reminded her of how desperately the people of Haiti must need these bags. She wanted to know more, so I briefly shared about what Haitians have been through the last few years with unimaginable death, illness and destruction after multiple earthquakes and hurricanes. She stood a little taller then and continued to work, her renewed energy for the work at hand pulling at my heartstrings.
This volunteering experience was a stark reminder for me. I shamefully remembered that just a few days before I was complaining about the lack of selection in the snack aisle and the increased prices that I could still manage to afford.
We are so blessed and I hope to continue to be able to contribute in any way possible to those who are hungry. As we celebrate our gratitude for the many gifts we've been given this month, let's remember to give what we can and to always remember the underserved in our prayers too. Please pray with me…
Most merciful God of all creation, we come to Your throne of grace with praise and thanks for all the rich blessings you have bestowed so freely upon all your children. We worship You and offer unending thanksgiving for Your love, Your justice and Your sustaining mercy.
We ask for special mercy this day for those crushed by poverty and those oppressed by forces beyond their control. We pray that those in the shadow of starvation may see the light of your presence in the form of life-sustaining food and that the hungry everywhere might be fed until they are filled.
Open our hearts, Lord, that we may see through Your eyes. Help us to love our brothers and sisters even as You love us. And let Your love, Your mercy and Your grace flow through us as we strive to meet the need of the least of these among us. In a world so richly blessed there are none that should lack daily bread. Our prayer is that You would empower us to do whatever needs to be done to see that Your gifts are shared with all our family.
Allow us Lord to be a true ambassador of reconciliation. Grant us the strength to be real peacemakers. And may our lives be a clear reflection of Your love and compassion in every situation.
~Taken from The Face of Hunger