Reaching the one million mark for COVID deaths in the US is not a milestone that anyone wanted to reach. If this news is still weighing heavily on your heart, please take a few quiet moments to light a candle and to pray with us. We hope that it brings comfort for any personal losses that you're enduring.
May the Father of mercies and God of all consolation,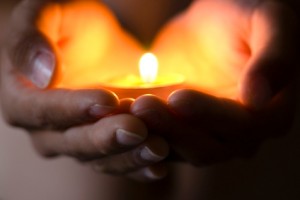 pursue you with untiring love,
comfort you in your loss and sorrow,
gently wipe every tear from your eyes,
and lift you from the depths of grief.
May the love and peace of the Lord, Jesus Christ
sustain you in hope until, at last
you are reunited with those you love.
May almighty God bless and console you,
in the name of the Father,
and of the Son,
and of the Holy Spirit.
Amen.
O Lord, we call upon You in our time of sorrow, that You give us the strength and will to bear our heavy burdens, until we can again feel the warmth and love of Your divine compassion. Be mindful of us and have mercy on us while we struggle to comprehend life's hardships.
Keep us ever in Your watch, till we can walk again with light hearts and renewed spirits.
~ Author Unknown