Last week we highlighted a few poems about nature by famous authors as we celebrate spring. Today we are sharing poetry by women authors that provide inspiration for our Creator's beautiful sanctuary outdoors at this time of year. Are you familiar with these poems too? Do you have other favorites that you'd like to share? Please let us know in the comments.
Christina Rossetti, 'Spring'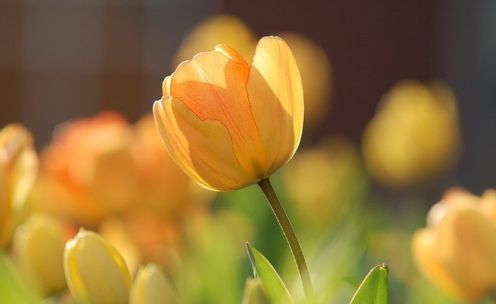 There is no time like Spring,
When life's alive in everything,
Before new nestlings sing,
Before cleft swallows speed their journey back
Along the trackless track –
God guides their wing,
He spreads their table that they nothing lack, –
Before the daisy grows a common flower
Before the sun has power
To scorch the world up in his noontide hour…
Emily Dickinson, 'A Light exists in Spring'
A Light exists in Spring
Not present on the Year
At any other period —
When March is scarcely here
A Color stands abroad
On Solitary Fields
That Science cannot overtake
But Human Nature feels.
It waits upon the Lawn,
It shows the furthest Tree
Upon the furthest Slope you know
It almost speaks to you.
Then as Horizons step
Or Noons report away
Without the Formula of sound
It passes and we stay —
A quality of loss
Affecting our Content
As Trade had suddenly encroached
Upon a Sacrament.
Amy Gerstler, 'In Perpetual Spring'
Gardens are also good places
to sulk. You pass beds of
spiky voodoo lilies
and trip over the roots
of a sweet gum tree,
in search of medieval
plants whose leaves,
when they drop off
turn into birds
if they fall on land,
and colored carp if they
plop into water.
Suddenly the archetypal
human desire for peace
with every other species
wells up in you. The lion
and the lamb cuddling up.
The snake and the snail, kissing.
Even the prick of the thistle,
queen of the weeds, revives
your secret belief
in perpetual spring,
your faith that for every hurt
there is a leaf to cure it.