The Sisters of Bon Secours have traveled from all over the world to begin their Mid-term Assembly at the Retreat & Conference Center today. It's always such a privilege to welcome them home! It is a time for the international congregation to gather for discussion about their mission focus, long term plans and to simply enjoy being in community together. Their theme is "Nurturing the Fire of our Original Call" and each day has a specific sub theme that includes: Wisdom/Sophia, Service/Ministry and Community. Each day will highlight prayer from a culture within their local community and it will be shared in the corresponding language, which includes English, French and Spanish.
We ask that you join us as we pray for the Sisters of Bon Secours…
God, Our Creator,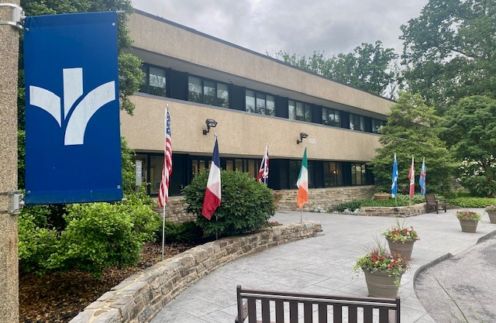 we come to you today asking for your guidance, wisdom, and support
as the Sisters of Bon Secours begin their Mid-Term Assembly.
Help them to engage in meaningful discussion;
allow them to grow closer as a group and nurture the bonds of community.
Fill them with your grace, Lord God, as they make decisions.
And continue to remind them, and all of us, that all we do here today,
all that we accomplish, is for the pursuit of truth for the greater glory of You,
and for the service of humanity.
We ask these things in your name,
Amen.
~ Adapted Ignatian prayer
Lord, Lord, Open Unto Me
Open unto me, light for my darkness
Open unto me, courage for my fear
Open unto me, hope for my despair
Open unto me, peace for my turmoil
Open unto me, joy for my sorrow
Open unto me, strength for my weakness
Open unto me, wisdom for my confusion
Open unto me, forgiveness for my sins
Open unto me, tenderness for my toughness
Open unto me, love for my hates
Open unto me, Thy Self for myself
Lord, Lord, open unto me!
~ Howard Thurman