Today's reflection is shared by Jen Murphy, Manager of Marketing & Events for the Bon Scours Retreat & Conference Center. Let's learn more about her favorite way to slow down and meditate in nature.
Waves of Prayer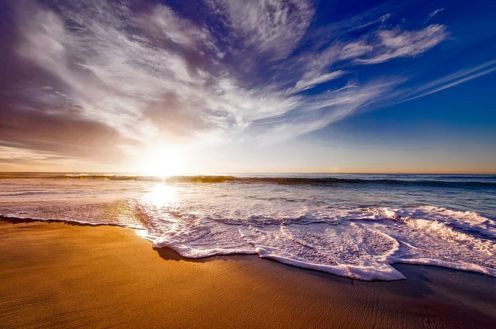 Lord of the Seas, speak… to me.
Flow heavens flow… over me.
Wash words of God wash… in me.
Lord of the Seas, speak… through me.
~Bill Gaultiere
Summertime is a very special time for me because I am able to spend a week at my favorite place on earth, the beach! I enjoy all beaches, but my all-time favorite is found on the Outer Banks of North Carolina. As soon as I step over the sand dune, breathe in the salt air, hear the waves crashing on the shore and see the water stretch out to the horizon, any tension in my shoulders seems to instantly relax and a complete sense of calm washes over me. I've found that many friends also relish the magical powers of the shore.
It's a little ironic though because as much as I love the ocean, I am really drawn to the shore, but not necessarily into the ocean itself. I like to sit at the edge and watch the waves roll in or take a walk along the edge where the water meets the beach. As a child though, it was difficult for my family to motivate me to get out of the water for a break and sunblock reapplication, but now it's the opposite. My children have often asked me why the beach is my favorite when I don't spend that much time actually in the water! Being outdoors near water is truly meditative for me and it's something they will likely appreciate more as they age too. It's one of the places where I feel the closest connection to nature and where I hear God's voice the clearest. Although I treasure the sights and sounds of the ocean most, I enjoy other bodies of water too including rivers, lakes, ponds and even swimming pools can have a calming effect for me! Finding spiritual connections with water in nature is easy for me to do. Water symbolizes life, cleansing, refreshment, and renewal. The sounds and movement of water can provide a melody to the vision of nature around it with birds, plants and wildlife that also find respite and nourishment there.
Don't misunderstand, there are many, many other aspects of nature that are holy places for me. Creation is full of wonder and it prompts gratitude daily, especially as I take in the sites around the Retreat & Conference Center! (Ok, the pond is still my favorite though.) So, I'm curious. What draws you in within nature? Do you share my love of the beach or are you called to the mountains? Do you frequent a local river for quiet reflection or prefer to be active and hike through the woods as you pray? Please share with us as you're able in the comments.
If you find yourself enjoying water in nature this summer, but struggling to block out the noise of life, you may want to use the prayer below as a springboard for relaxation and renewal. Open your heart to God's direction…open it to the waters of new life.
Prayer of Petition
God and Lord, Giver of Life, give us the waters of new life.
In the deserts of our lives, in the wilderness within:
Give us the waters of life.
To give us hope when our lives run dry, to give us strength when our world seems barren:
Give us waters of new life.
To let peace flow like a river and love spring forth like a fountain:
Give us the waters of new life.
To make justice roll down like waters and righteousness like a living stream:
Give us the waters of new life.
To give us- and our world- a second chance and a new beginning:
God, give us the waters of new life.