Today marks the Feast of Epiphany, the day that Jesus was presented to the Gentiles through the Magi. It can be viewed as a symbol of our pilgrimage to life through Christ. Imagine the journey of these kings, Persian priests…following a star…relying on this astrological knowledge and years of study…yet guided by faith to endure. Where are you on your pilgrimage today? Are you still seeking the Light?
Arise, shine; for your light has come,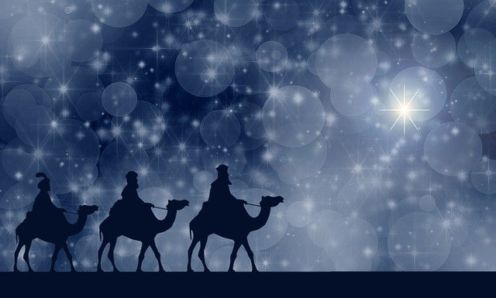 and the glory of the Lord has risen upon you.
For darkness shall cover the earth,
and thick darkness the peoples;
but the Lord will arise upon you,
and his glory will appear over you.
Nations shall come to your light,
and kings to the brightness of your dawn.
Lift up your eyes and look around;
they all gather together, they come to you;
your sons shall come from far away,
and your daughters shall be carried on their nurses' arms.
Then you shall see and be radiant;
your heart shall thrill and rejoice,
because the abundance of the sea shall be brought to you,
the wealth of the nations shall come to you.
A multitude of camels shall cover you,
the young camels of Midian and Ephah;
all those from Sheba shall come.
They shall bring gold and frankincense,
and shall proclaim the praise of the Lord.
All the flocks of Kedar shall be gathered to you,
the rams of Nebaioth shall minister to you;
they shall be acceptable on my altar,
and I will glorify my glorious house.
~Isaiah 60:1-7
Be Our Daily Star
An Epiphany Prayer
God of all heaven and earth,
From the breath of your love came the creation of the world.
We are amazed at the vast beauty of the night sky
and at the intimate nature of the love you have for us your children.
Be our daily star, Guiding our lives to search for kingdom love.
May we always follow your light of truth in all that we do,
Forever trusting, hoping and believing in your word.
Lift our eyes tonight to see your eternal life shining brightly,
Leading us home.
Amen.
~Unknown author