In the lengthening of days,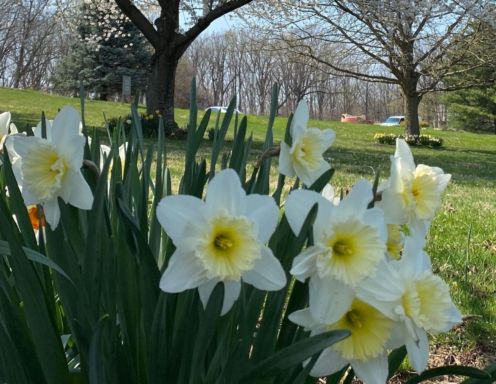 Snowdrops emerging,
from winter's frozen ground.
A. WE SEE THE CREATOR'S HAND
In the sight of a tiny lamb
joyfully bounding
across hillside farm
A. WE SEE THE CREATOR'S HAND
Creator God, forgive our moments of ingratitude,
the spiritual blindness that prevents us
from appreciating the wonder that is this world,
the endless cycle of nature,
of life and death and rebirth.
Forgive us for taking without giving,
reaping without sowing.
Open our eyes to see,
our lips to praise,
our hands to share,
and may our feet tread lightly
on the road that, together, we travel.
__________________________
A sleeping world emerges to new possibilities,
weakening winter's icy grip,
and birdsong and bleating lamb
announce to all the promise
that in due season
creation bursts into life.
And whilst leaves that fell in winter
lie upon the ground,
soon to feed the earth,
in nature's wondrous cycle
of death and rebirth,
within the tree is a stirring of new growth.
~John Birch
Click here to read more by John Birch.