As we prepare for Earth Day on Saturday, we are highlighting a few quotes about trees from two inspiring authors. Take a moment to appreciate the trees around you today! Comment and share your favorite species or places to visit.
"If a tree falls in the forest there are other trees listening. This is because a tree can be only as strong as the forest that surrounds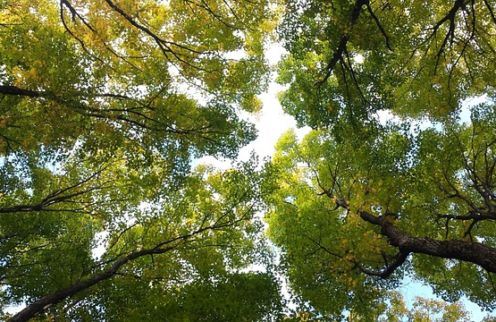 it. Every tree, therefore, is valuable to the community and worth keeping around for as long as possible."
"So, in the case of trees, being old doesn't mean being weak, bowed, and fragile. Quite the opposite, it means being full of energy and highly productive. This means elders are markedly more productive than young whippersnappers, and when it comes to climate change, they are important allies for human beings."
"Every walk in the forest is like taking a shower in oxygen."
― Peter Wohlleben, The Hidden Life of Trees: What They Feel, How They Communicate—Discoveries from A Secret World
"I read from Genesis to Revelation, underlining everything the Bible has to say about trees. And here's what I found: God has an astounding fondness for trees.
Other than God and people, the Bible mentions trees more than any other living thing.
There is a tree on the first page of Genesis, in the first psalm, on the first page of the New Testament, and on the last page of Revelation.
Other than God and people, the Bible mentions trees more than any other living thing.
Every significant theological event in the Bible is marked by a tree. Whether it is the Fall, the Flood, or the overthrow of Pharaoh, every major event in the Bible has a tree, branch, fruit, seed, or some part of a tree marking the spot."
"Trees are God's investment in humanity's future. They are the only living thing to which God gives a ring on each birthday. Only He knows the exact timing of Christ's return. I hope it is tomorrow morning. But, in the meantime, I'll plant trees that will take a century to grow — and I'll try to spread the gospel like there's no tomorrow."
— Matthew Sleeth, M.D., author of Reforesting Faith
Click here to read his full post.