Tomorrow commemorates Memorial Day in the United States, a day when we honor those who have died in war for our freedom. Many use the holiday for backyard cookouts and visits to the pool, but we should also pause and take a few moments to pay respect for these heroes, to pray for those who currently serve and their loved ones, and to pray for a future of peace.
PRAYER FOR MEMORIAL DAY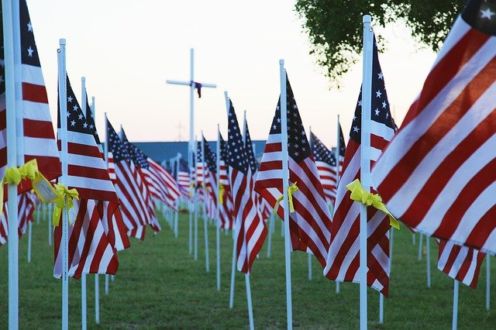 In the quiet sanctuaries of our own hearts,
let each of us name and call on the One whose power over us
is great and gentle, firm and forgiving, holy and healing:
You who created us,
who sustain us,
who call us to live in peace,
hear our prayer this day.
Hear our prayer for all who have died,
whose hearts and hopes are known to you alone…
Hear our prayer for those who put the welfare of others
ahead of their own
and give us hearts as generous as theirs…
Hear our prayer for those who gave their lives
in the service of others,
and accept the gift of their sacrifice…
Help us to shape and make a world
where we will lay down the arms of war
and turn our swords into ploughshares
for a harvest of justice and peace…
Comfort those who grieve the loss of their loved ones
and let your healing be the hope in our hearts…
Hear our prayer this day
and in your mercy answer us
in the name of all that is holy.
Amen.
Austin Fleming