Many overnight visitors of our retreats enjoy spending their early morning hours with views of the sunrise as they wake up to the day. The next time that you are up at that hour, wherever you are, and have a clear view of the sunrise, you may want to use this prayer. We've also included a beautiful morning meditation video below that could be used at any time of the morning. Let's pause, breathe and let God know that we're ready for the day, in gratitude for the opportunity.
Crows, always early risers,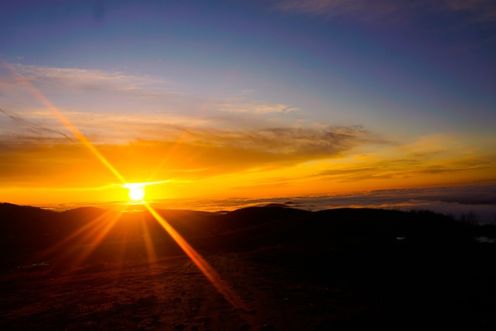 and the first pair of geese
wing their way in the dawn.
Across the eastern horizon
my awakening eyes greet
a wide expanse of color,
tender shades of orange, pink,
lavender and magenta,
interspersed by dark clouds
shaping themselves as mountains.
I gaze and behold the beauty,
grateful to be alive on this day;
eyes behold what is before me,
my heart receives it joyfully.
Aware of the many still asleep
or for whom no sky is visible,
those, too, already laboring
at the work they're meant to do,
I join my prayer of the eyes
with the urging of my heart,
pick up the morning psalm and pray:
"My heart is ready, God;
my heart is ready.
I will sing. I will sing your praise." (Ps57)
Now I can enter this fresh day
carrying the dawn with me,
tinted with beauty of a generous Love
strewn in each movement of my own.
© Joyce Rupp
April 26, 2021