During a recent Centering Prayer session, the following Psalm was shared. Then later the facilitator, Amy Kulesa, noticed that this was the fall decoration in the Welcome Center, created by Guest Services Agent Vivian Eddy. Coincidence? Maybe. But, could it be an example of how the Holy Spirit shares common themes in our lives? Quite possibly. Think about how the Spirit is speaking to you today. We just need to take time to be quiet and to listen. Let's meditate on this Psalm to find that quiet place.
As a deer yearns for running streams,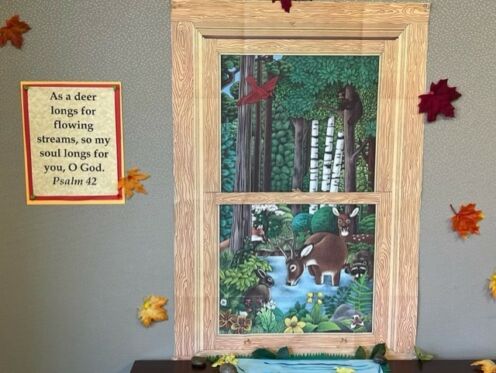 so my soul yearns for you, my God.
I thirst for God, the living God;
When shall I go to see the face of God?
I have no food but tears day and night,
As all day long I am taunted, "Where is your God?"
Why so downcast my soul, why do you sigh within me?
Put your hope in God! I will praise him yet, my Savior and my God.
Deep is calling to deep in the roar of the waters,
All your waves and breakers have rolled over me.
In the daytime God sends his faithful love, and even at night;
The song it inspires in me is a prayer to my living God.
Psalm 42