Following the Nonviolent Jesus:  Living the Gospel Life of Peace, Love & Nonviolence Today with Nobel Peace Prize Nominee, activist and author, Father John Dear
Gandhi once said that Jesus was the greatest person of nonviolence in history, but the only people who don't know that Jesus was nonviolent are Christians. What is Gandhi is right? How do you see the life of Jesus in light of the nonviolence of Mahatma Gandhi, Dorothy Day and Dr. King? If Jesus was totally nonviolent, and announced that God is nonviolent and God's reign is nonviolent, what does that mean for ourselves, our spirituality, our politics, our church, our world?
Longtime activist, author, and Nobel Peace Prize Nominee, Father John Dear will reflect with us on the life, teachings, death and resurrection of Jesus from the perspective of active nonviolence and what that means for us today. Together we will look at teachings like "Blessed are the Peacemakers," "Love your enemies," and "Put down your sword," read and discuss the Gospel stories, and explore a spirituality of peace and nonviolence for ourselves, that we might do our part as faithful disciples to work for the abolition of war, poverty, racism, violence, nuclear weapons and environmental destruction, and welcome God's reign of universal love and peace here on earth. We will have presentations, quiet time, small and large group discussion, sharing, prayer and afternoon breaks.
Bring your Bible and a journal and come ready to take a deep dive into the Gospel path of the nonviolent Jesus!  In preparation, please read one of the Gospels and, if possible, Fr. John's new Gospel commentary, The Gospel of Peace. Other suggested readings include: The Beatitudes of Peace, Walking the Way: Following Jesus on the Way of Nonviolence, The Questions of Jesus, The Nonviolent Life or Jesus the Rebel. Fr. John Dear's books will be available at the retreat too.
Check-in begins at 4pm and dinner will be served at 6pm. The retreat will begin after dinner.
If you are interested in a double occupany lodging reservation or a commuter option, please email Jennifer.Murphy@BonSecoursRCC.org.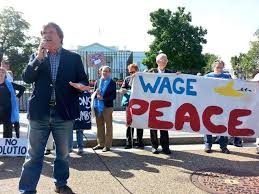 Rev. John Dear is an internationally recognized voice and leader for peace and nonviolence. A priest, activist and author, he served for years as the director of the Fellowship of Reconciliation, the largest interfaith peace organization in the U.S. After September 11, 2001, he was a Red Cross coordinator of chaplains at the Family Assistance Center in New York, and counseled thousands of relatives and rescue workers. John has traveled the war zones of the world, been arrested some 80 times for peace, led Nobel Peace prize winners to Iraq, given thousands of lectures on peace across the U.S., and served as a pastor of several churches in New Mexico. He arranged on many occasions for Mother Teresa to speak to various governors to stop an impending execution, and helped draft Pope Francis' Jan. 1, 2017 World Day of Peace message on nonviolence. He is a co-founder of Campaign Nonviolence and the Nonviolent Cities Project and founder and director of "The Beatitudes Center for the Nonviolent Jesus," www.beatitudescenter.org
His 40 books include: The Beatitudes of Peace; They Will Inherit the Earth; The Nonviolent Life; Radical Prayers; Walking the Way; Thomas
Merton Peacemaker; A Persistent Peace; Transfiguration;  You Will Be My Witnesses;   Living Peace;  The Questions of Jesus;   The God of Peace;  Jesus the Rebel;   Peace Behind Bars; Lazarus Come Forth!,  Disarming the Heart and Praise Be Peace: The Psalms of Peace and Nonviolence in a time of War and Climate Change.  His new book, The Gospel of Peace: A Commentary on Matthew, Mark & Luke from the Perspective of Nonviolence, was just published by Orbis Books. He has been nominated many times for the Nobel Peace Prize, including by Archbishop Desmond Tutu. www.johndear.org